Yes, bikepacking can be a very expensive hobby. Starting with a bike, there are many more things needed for an overnighter outside of your city, a crossing of a new country or even tackling a new self-supported bikepacking race. I put a list about the most essential things to start with bikepacking together.

If you don't own a number of bikepacking bags, as well as super lightweight camping gear and high-functional clothing, the dive into bikepacking can be quite expensive. In times of COVID-19, when travelling and adventures in other countries is not allowed, many friends have asked me for advices regarding a new bike to locally explore their surroundings.
But only cruising through the city requires you to buy more than just a bike. Pedals, a helmet, front and rear light and a lock quickly add up to another mountain of money, that your local bike shop is happy to receive.
I have put together a list of Bikepacking (and cycling) gear, that is a good basis for an overnighter bikepacking trip and does not completely blow up your budget. I suggest to start with the very essential parts and add some more advanced bikepacking stuff later.
Bike Accessories
Pedals, helmet, lights and a lock are the very essential you will have to start with

Pedals: BLB Flatliner Road Pedals
Helmet: Giro Agilis
Front Lights: Zebralight Headlamp
Rear light: Brooks Femto
Lock: KryptoniteKepper 512 Combo Cable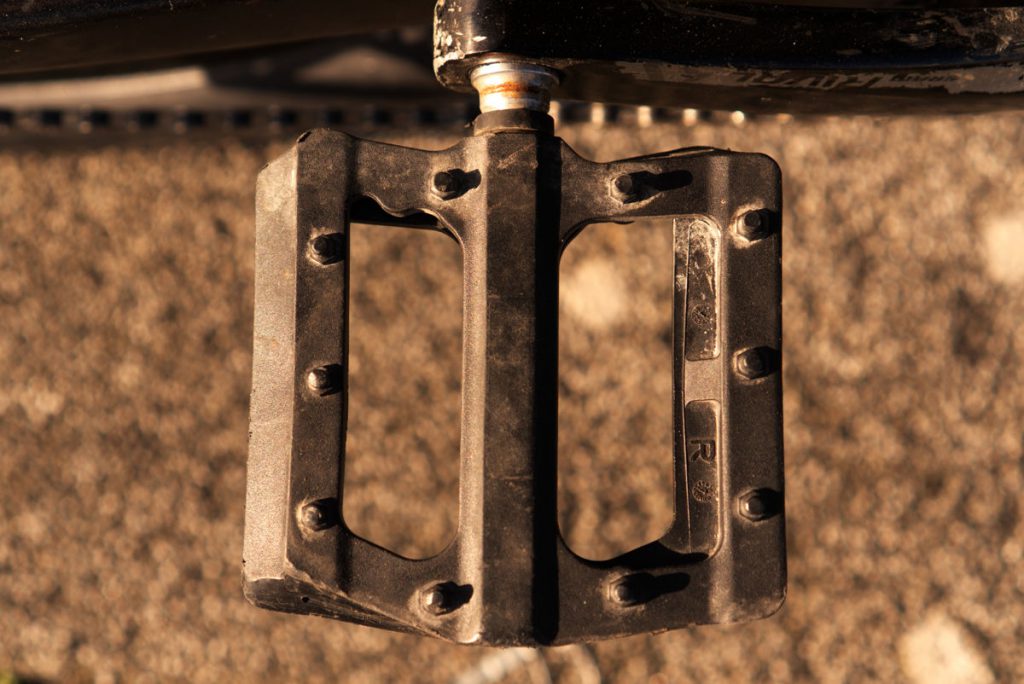 Sleep System
I assume most people plan to go bikepacking in good weather. Saving some money in sleeping equipment and put on a few extra layers on your body might be a wise decision. Clothing is needed anyway, so it is advisable to always have an extra layer.

Shelter: Alpkit Hunka XL bivvy bag
Sleeping bag: Sea to Summit Spark 0 (comfort: 14° C/ 57° F, lower: 10° C/ 50° F, extreme: -2° C/ 28° F)
Sleeping mat: Sea to Summit Ultralight Sleeping Mat
Clothing
Merino is the way to go. It's not the cheapest fabric, but it's absolutely worth it. Also, you can wear it in daily life. Other than that, I really like the Gore clothing. Sure, this comes with a high price, but again, rather investing a bit more money on high quality fabrics than spending money on cheap products that most likely will have to be replaced in a couple of months. Brands that I would recommend from my own use: Patagonia, Gore, PEdALED, Craft, Rapha (in this order).
Camping Equipment
Depending on the level of isolation and duration, the amount of camping equipment can vary a lot. This list is for a simple overnighter/ two days trip, with higher expectations on foot and comfort, i.e. it´s more "glamping" than camping.
If money is a matter, you don´t have to buy this stuff. Look for a sleeping spot that is close to a small restaurant/ kiosk or a supermarket. With a bit of creativity, you can create some amazing dinners. Besides after a long day in the saddle almost everything is a welcoming dinner.

Gas can: any gas can from your local shop is fine
Stove: BRS 3000-T, smallest, cheapest and best stove I have ever used
Pot: Sea to Summit Alpha Pot 600 ml
Cutlery: Sea to Summit Alphaset 3pc cutlery set
Personal care: Sea to Summit Alloy Pocket Trowel
Nutrition
Never forget electrolytes on longer rides. Your body needs them! If you have camping equipment (a stove and a pot), I highly recommend the dehydrated expedition food from Firepot. I have tried a lot of expedition food that is not tasty, difficult to prepare and expensive. But the people behind Firepot create a food, that could easily be served in a restaurant. It's more expensive than junk food, but they only use familiar ingredients you would find in a kitchen cupboard.
Technical Equipment
For a start you don't really need much electronical devices. Everyone has a mobile for navigation, communication, weather, music and whatever you use it for. A battery pack for recharging lights and your mobile is recommended. There are many other gadgets, but for a start, a battery pack should be fine.

Efest battery pack 18650
Tools and Repairs
A spare tube, pump and tire levers should be taken with you in all trips. Other than that, a multitool helps in almost all situations.

Spare tube: Schwalbe Tube No. 19A extralight
Tire levers: no special brand recommended
Pump: Lezyne Micro Floor Drive HV
Multitool: Topeak Mini 20 Pro
Lock: Kryptonite KryptoFlex 815 Combo Cable


Got stoked? Fell free to check my kit lists of the Silk Road Mouuntain Race and Atlas Mountain Race.