Some people spend all of their annual saving on snickers. Other people try to avoid carbs and eat as much fat as possible. In fact, in ultradistance races you don't have many food options in most cases. From my personal experience, the food that I'm used to eat during longer training rides is just not available  in most countries where many (unsupported) ultra endurance events take place.
This list is a best scenario list. You will find most of the items in European supermarkets. Other items can be ordered in the internet. If you go overseas in less developed countries, I suggest to bring at least a little bit of your own food. In ultra endurance events, your body has to face great strains. Therefore, it's very important to fuel with good and natural food, that – in the best case – is not new to your stomach.
The table focuses on the energy density as well as the three macronutrients carbs, protein and fat. I put together a lot of top 5 categories that work best for me. Feel free to leave some comments about your eating habits. You can also download a list of my best food in ultra endurance cycling events.

TOP 5 ENERGY DENSITY
1. Olive oil, 2. Butter, 3. MCT oil, 4. Mixed nuts, 5. Dark chocolate

The most important parameter that I look at when choosing the right food is kcal/ 100 g. Most food that has a high energy density is usually high in carbs and fat. However, a (glass) bottle of olive oil is bulky, pretty brave to put it in a frame bag and ride a few hundred kilometres and is not easy to digest for the stomach if you drink it pure. Same goes for butter. Therefore, I never carry them on my bike but I try to include them in my food when I stop at restaurants (if possible).
TOP 5 CARBS
1. Maltodextrin, 2. Corn waffles, 3. Gummy bear, 4. Dutch caramel waffles, 5. TUC cracker

Keep in mind, that these foods are relatively high in sugar (except corn waffles and TUC cracker). Sugar is an energy supplier if you do high intensity activities. For multi-day cycling activities, it´s not my number one food, because you simply ride slower (but longer) and therefore fat might do a (better) job.
TOP 5 FAT
1. Olive oil, 2. MCT oil, 3. Butter, 4. Mixed nuts, 5. Dark chocolate

It´s not a big surprise that this ranking is identical to the "energy density" ranking. Fat has the highest energy density (9 kcal/ g), whereas carbs and proteins only have 3 kcal/ g.
TOP 5 PROTEIN
1. Vegan protein shake, 2. Huel, 3. Natural peanut butter, 4. Red lentils pasta, 5. Cheese (Gouda)

Obviously, I eat this food mostly after training or races. Combined with a solid portion of carbs, this food speed up my recovery and let me get back on the bike quickly.
TOP 5 PRICE/ KCAL
1. Instant oats, 2. Wholemeal pasta, 3. Olive oil, 4. Dutch caramel waffles, 5. Maltodextrin

Obviously, this topic shows the food that has the lowest price/ kcal. I find this category very interesting, however, I don't give too much attention because nutrition shouldn't be a matter of money.
TOP 5 THAT ARE NOT INCLUDED IN ANOTHER TOP 5 BUT STILL VERY IMPORTANT
1. Firepot dehydrated food, 2. Energy cakes, 3. Go energy gel (Science in Sport)

Depending on the type of race and the remoteness of the area I ride through, I always carry a certain amount of these power foods with me. Sure, Fireport and Science in Sport products are a bit more expensive. But that´s totally worth it. Firepot is the best food that I found for multiday bikepacking adventures, when I don't have the option to find food in restaurants. I simply boil between 400 to 600 ml of water, pour it into the zip lock bag, wait for 15 minutes and have a really tasty ready-to-go meal. Especially on longer days on the bike some proper food in the evening can make a big difference. I use the Go energy gel from Science in Sports towards the end of each day. 150 mg of caffeine keep me awake for another 2 – 3 hours. It also has a high amount of short-chain carbs that gives another push into the night and some electrolytes to keep the body alive.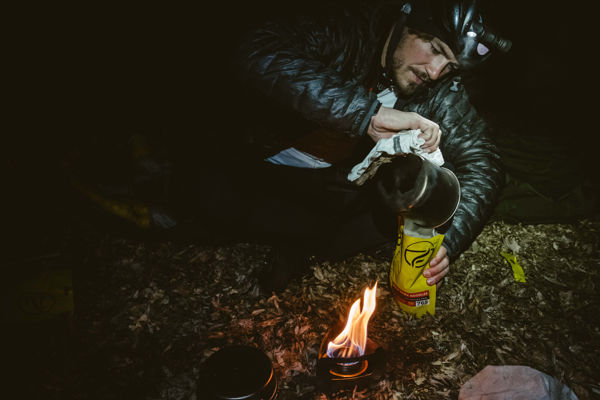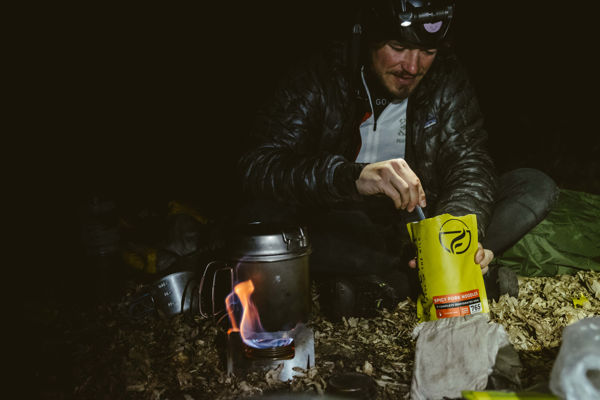 TOP 5 2-3 DAYS BEFORE RACE START
1. Wholemeal pasta, 2. Huel, 3. Mixed nuts, 4. Lentils, 5. Smoked Salmon

In theory, short but intense interval training sessions are recommended to empty glycogen stores. This would be my perfect race prep. However, that's not always the case. I try to get long chain carbs and good fats. Pretty simple food, with a slightly higher energy density. Huel is a convenient and complete meal, that I included in my daily life over the last years. I wouldn't replace a healthy meal by Huel. But when I'm on the go, it's much better than the junk food that I find on the streets.
TOP 5 THE DAY BEFORE RACE START
1. Potatoes, 2. Oats, 3. Smoked Salmon, 4. Avocado, 5. Mixed Nuts

The day before the race start, I try to eat as normal as possible with a focus on good, healthy food that gives energy for the upcoming activity.
TOP 5 SINGLE-DAY RACE
1. Huel, 2. Instant oats, Maltodextrin, 4. Natural peanut butter, 5. MCT oil

On a single-day event, I try to cover my energy balance with fluid carbs and fats that I prepare at home. I put all five foods in a shake. It is a pretty viscous liquid in the beginning, but as soon as I start drinking I fill it up with extra water. So, it becomes more and more drinkable. Additionally, I buy some "real" food at supermarkets or petrol station that are located on the way.
TOP 5 AFTER RACE
1. Vegan protein shake,2. Maltodextrin, 3. Huel, 4. VitaMalz, 5. Rice/ egg/ broccoli combination

Nutrition is a very important parameter when speeding up recovery time. Contrary to what most people think, not only protein is important after a long activity, but also carbs. If I have some pre-cooked high carbs/ protein food at home, then I go for the "real" food. If I don't have pre-cooked food on hand, I prepare a shake because it's important to eat/ drink as soon as you finished the race/ training. Afterwards, I cook rice, egg and broccoli for example for a tasty dinner.