It was in April when I entered "The Gentle Jaunt", a laid-back bike shop with an exceptional café corner, and ask for some advices regarding my participation on the Silk Road Mountain Race (SRMR). I just came back from a long trip through Morocco, Portugal and Spain and had a few hundreds km in my legs. After I fully recovered from a cruciate ligament rupture I was ready to hit my first ultra distance cycling race.
Basti chuckled a bit when I told him about my plans to ride the SRMR with my aluminium hardtail. He didn´t say the bike was bad, but regarding the amount of climbing that I'm going to face in Kyrgyzstan the bike would be way to heavy. We discussed a lot about what bike would fit for my plans. I was definitely excited about some off-road adventures, however, there are a lot of stunning ultra distance races on tarmac in Europe. Finally, I decided for a Bombtrack Hook EXT-C.
The SRMR is a 1,700 km self-supported, single-stage bikepacking race through the remote, high-altitude Tian Shan Mountains of Kyrgyzstan. It is a big challenge for the body as well as the mind. Temperatures went up to 35 degree during the day and minus degrees in the night. Snowstorms, altitude, river crossings, swamps, dry desert, strong winds, big stretches without water, frozen food… there was a lot that we were going to face. Therefore, planning and preparation would be highly relevant to finish the race. My system weight was about 106 kg (bike 30 kg).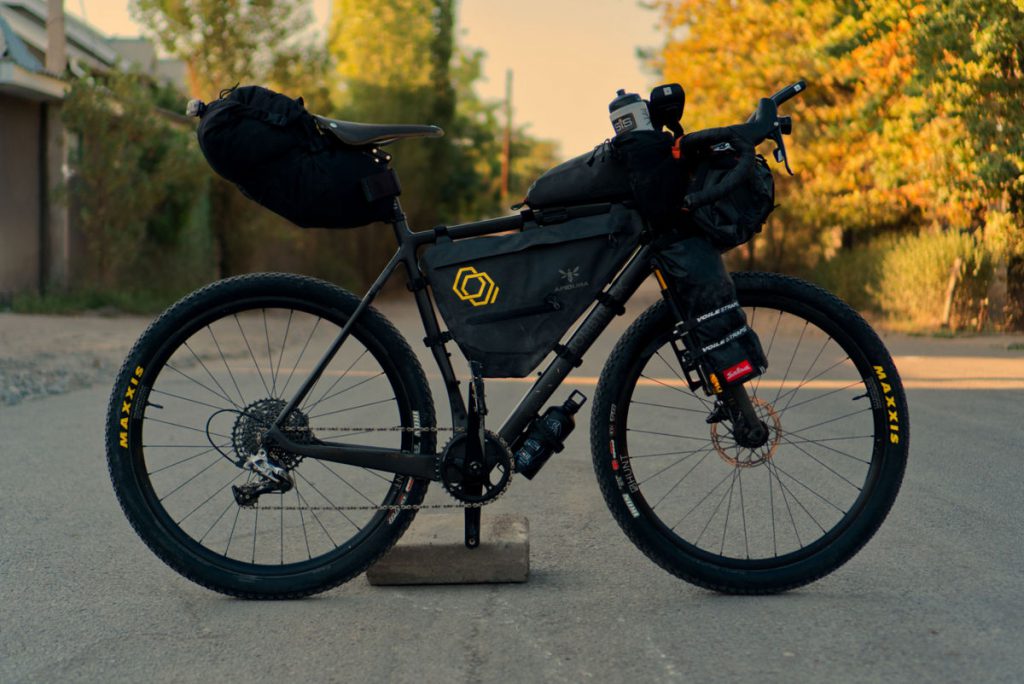 1. Bike Build (about 10 kg)
Investing in a new bike was definitely the right decision. I love my Bombtrack Hook EXT-C, it has never let me down. The tire clearance give room for 2.2 tires (and a bit of mud). The Maxxis Ikon worked perfectly for me. I haven't had a single issue during the entire race, however, some other riders did have a lot of problems with the same tires. I would go for a smaller chainring next time to reduce the fatigue on the muscles (or a bigger cassette). Also, I had to push my bike a lot, which gave a lot of strain on my Achilles tendons, which almost let me scratch from the race. The SRAM Rival hydraulic disc brakes (160 mm front, 140 mm back) were just okay. On steeper and technical downhills I wished I had stronger brakes. The brooks saddle gives a lot of comfort. However, when pushing or carrying the bike the saddle was a bit to long. There was a 80 km tarmac stretch on the "Chinese Highway" when I was happy to have my Profile Designs aero bars (in combination with the moveable Redshift seat post that enables a slighter higher/ forward position). Also, I had my light mounted on the aero bars (powered by a SON 28 dynamo). If I return to Kyrgyzstan to race again, I would leave them at home, because there were just to heavy and bulky for the short time of using. As I'm not as good in technical sections as other riders I decided to race on flat pedals. The Shimano Saints did their job during the race, but they broke one week before the start (special thanks to Eric who brought new pedals from Germany). And few weeks after the race back in Germany the bearing broke. I got my money back but I will never ride on them again.
Wheels and tires
Hunt Adventure Sport 27.5 wheelset
Maxxis Ikon 2.2 (tubeless)
Hunt Adventure Sport front and rear hub
Hunt Adventure Sport 28" front and rear rim (25 mm internal)
SON 28 dynamo (440 g)
Drivetrain and brakes
40 T chainring
11 – 42t SRAM cassette
SRAM Rival1 brakes
Additionals
Brooks saddle (C17) (420 g)
Redshift seat post (550 g)
Redshift flexible stem (140 g)
Shimano flat pedals (550 g)
Profile Designs aero bars (600 g)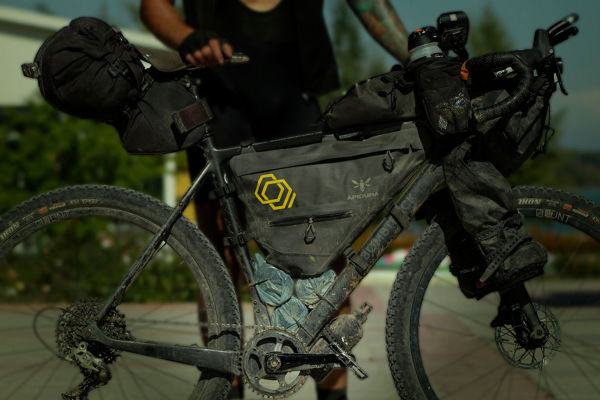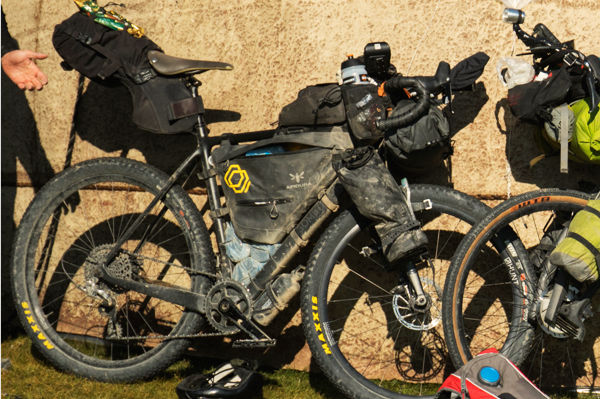 2. Bags & Mounts (2,390 g)
As my drop bar limits the full potential of my handlebar bag I only had enough room for my sleeping bag. Overall, my set up might have been heavier than other riders set up. But I felt comfortable in every situation (food, water, temperatures, rain, snow). So the rather heavy sleeping gear was worth it. Due to the smaller frame on my bike (M) it could only fit the smallest size of the Apidura framebags. I put my three spare tubes in the free space over the bottom bracket. I really liked the big size of the Salsa tup tube bag. It could easily fit my battery pack (Anker, 10.000 mAh), mobile and wallet/ money. All the dehydrated Firepot meals were stuffed into the Salsa Anything Bags on the fork, very heavy. But unbelievable tasty.
2 x Salsa Anything Cages (150 g each)
2 x Salsa Anything Bags (180 g each)
Ortlieb handlebar bag (15 l) (420 g)
Apidura framebag (7.5 l) (340 g)
2 x Revelate Designs feedbags (1 l) (220 g)
Salsa EXP top tube bag (1.2 l) (160 g)
Topeak saddle bag (15 l) (570 g)
Element Bolt K-Edge mount (20 g)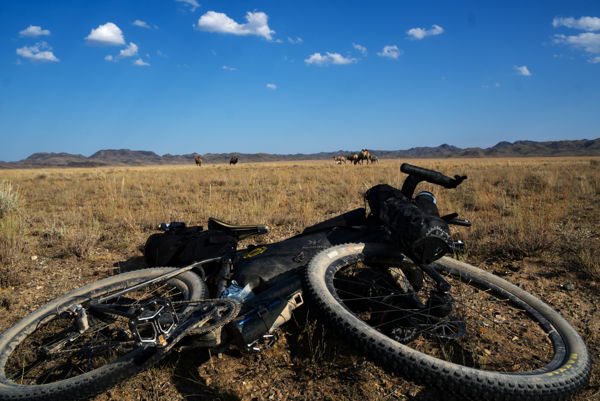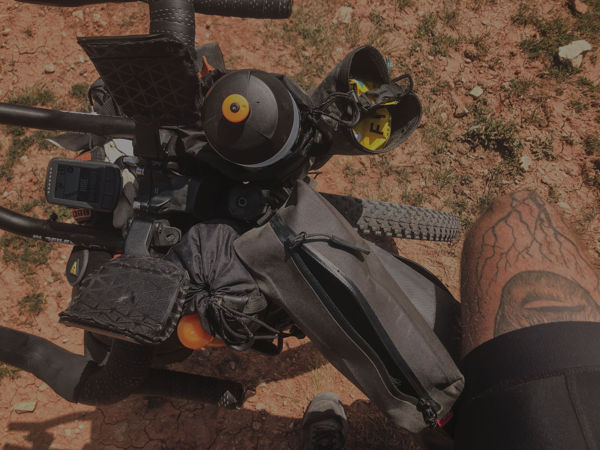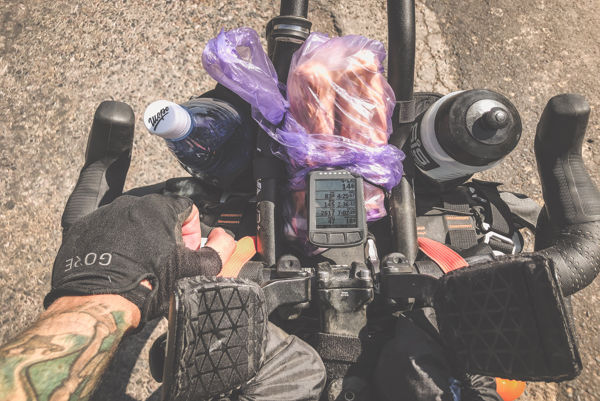 3. Clothing (2,950 g)
The weather in the high mountains of Kyrgyzstan can be tough. So I carried more layers and clothing than usual. I haven't had a lot of experience with cycling clothes, so I just hoped that investing in Gore Tex will be okay. And all Gore Tex clothes did more than a great job. In fact, the only clothing apparel that I didn't like were the Giro Wi Blaze 2.0 clothes. They were supposed to be warm AND waterproof. In reality, they were warm in dry conditions and only the lightest rain made them wet and bloody cold. Two things that I didn't really use were the long sleeping pant (I was too lazy to change clothes at minus degrees when I slept outside or I was naked when I slept in a guesthouse) and the over shoes. It is easy to say that there were too many river crossings to keep the feet dry. So there was no point to use the over shoes. The down jacket kept my body warm even in minus degrees, but the fabric is not supposed to get wet. Therefore, I always had to put my wind jacket over the down jacket which was a bit annoying sometimes.
Craft bib shorts (170g)
Craft Jersey (150 g)
Gore Tex Base layer (150 g)
Gore Tex windstopper base layer (140 g)
Gore Tex Wind/ rain jacket (Shakedry 1985) (150 g)
Patagonia Down Jacket (350 g)
Vaude Rain pants (160 g)
Gore Tex Leg warmers (110 g)
Giro Wi Braze 2.0 gloves (90 g)
Gore Tex face warmer (50 g)
Gore Tex cap (40 g)
Gore Tex helmet cover (30 g)
Molon Babe sleeping pant (90 g)
Danish endurance cycling socks (40 g)
Danish Endurance merino socks (60 g)
Gore Tex over shoes (100 g)
Adidas Trail Running shoes (840 g)
MET Manta helmet (230g)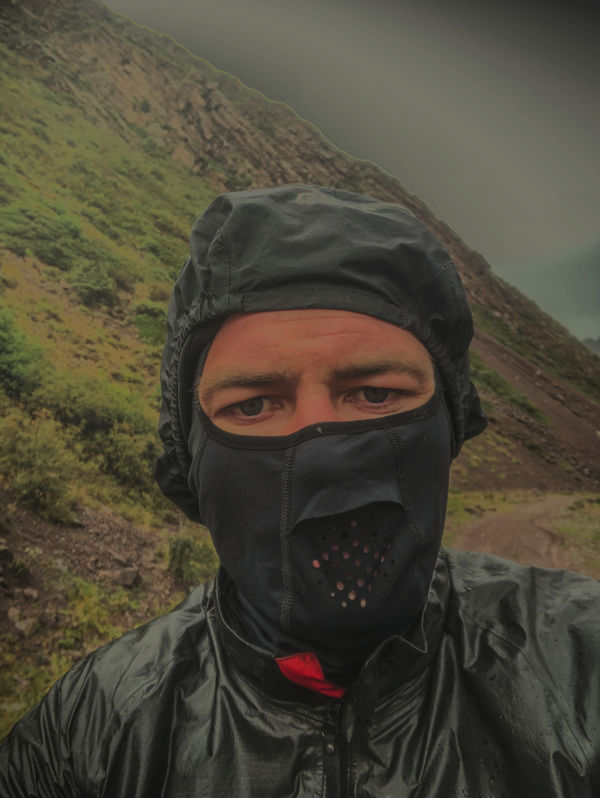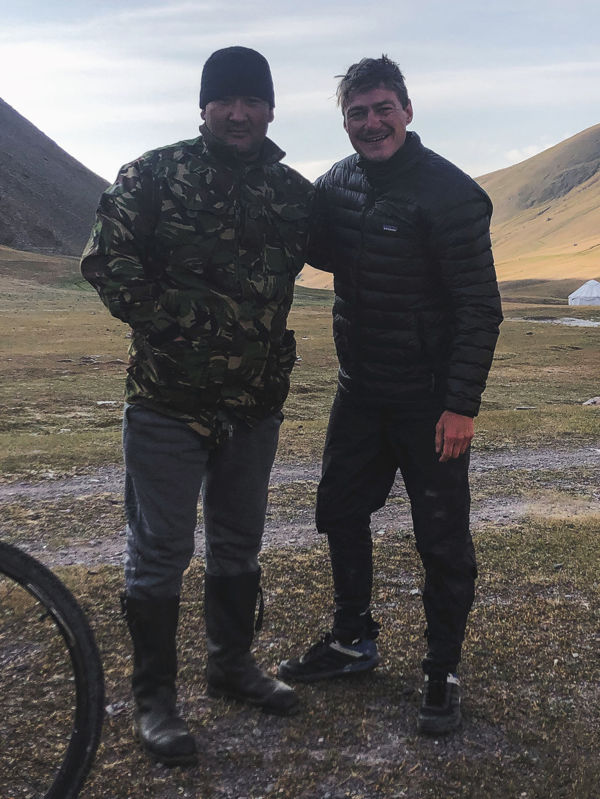 4. Sleep System (2,290 g)
Kyrgyzstan is a very remote and less-inhabited country and you never know whether you get invited by some nomads who spent their summer in their yurts in the high mountains or you will have to pitch your tent in the middle of a snowstorm, freezing your ass off at minus degrees. Therefore, you rather invest in a high-quality sleep system. Sea to Summit is the key when it comes to high quality AND affordable camping gear. The Spark-series is an ultralight down-filled sleeping bag ranging from warm summer temperatures (Spark I) to mid-winter temperatures (Spark V). I decided for the Spark IV which just looked perfect for the conditions of the Tian Shan mountains in terms of warmth, isolation and pack mass. Comfort temperature is -8 degree by a weight of 880 g. The Sea to Summit Ultralight Air Mat is a durable, compact, sleeping mat for adventurers who don´t want to sacrifice comfort for weight. With its single layer resolution cells, it offers a minimal packed seize and can be inflated with an airstream pumpsack. The Six Moon Designs Lunar Solo tent is a very lightweight one person, single-layer tent. It is very easy to setup in any weather conditions. You will need an extra tent pole as well as tent stakes.
Six Moon Designs Lunar Solo (700 g)
Tent pole (200 g)
Tent pegs (150 g)
STS ultralight sleeping mat (360 g)
STS Spark IV sleeping bag (880 g)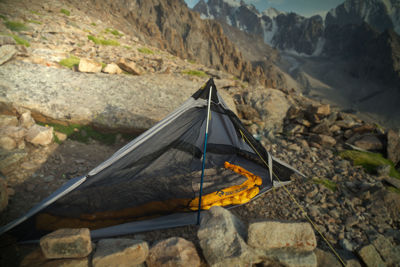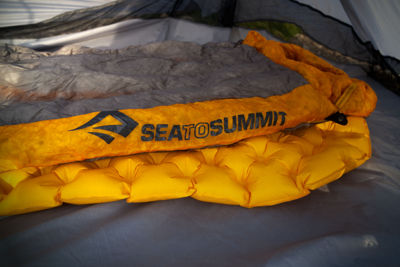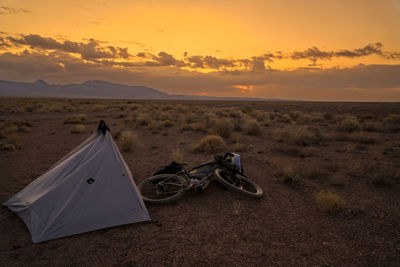 5. Food Preparation (1,100 g)
One of the less things I would change if I race a similar event again is leaving the gas can at home. Even though I put it in the Alpha pot (cooking pot) it was still very bulky. In fact, my frame bag was half-full only with the cooking pot and gas can. As I only carried dehydrated expedition food from Firepot (and a lot of energy cakes for which I didn´t need any water for) I only needed hot water to prepare my high-calorie meals. Covering about 200 km each day I did pass some kiosks or smaller restaurants who had hot water (for tea). And because boiling water with the gas can is very time-consuming (especially in high altitude), I just stopped there and asked for hot water to pour into the Firepot zip lock bags. So, I didn´t have to worry about how and when to prepare my food as I always had a ready-to-eat meal in my fork bags. For water purification I used the Sawyer Mini which did a pretty good job. One filter bag leaked after a few days, but I had a spare filter bag. It takes some time to push the water through the filter, but to my knowledge, there is no better alternative so far. If anything would have gone wrong I was also carrying a box of water purification pills for about 25 liter.
Stove (BRS 3000-T)) (30 g)
Gas can (450 g)
Sea to Summit Alpha Pot 600 ml (190 g)
Sea to Summit titanium spoon (20 g)
Sawyer water purification filter (400 g)
Katadyn water purification pills (10 g)
6. Nutrition (6,510 g)
Retrospectively, looking at the numbers, 6,5 kg of extra weight for food in an event like SRMR where you literally only climb up mountains seems to be a really heavy additional load for your legs. Otherwise, I´ve never worried about an empty stomach or no power in my legs. The E.L.F. energy cakes were perfect to have a small bite when sitting on the bike (they are incredibly tasty). The dehydrated meals from Firepot were pre-prepared with hot water. I only chose vegetarian options (dan and rice with spinach, porcini mushroom risotto, vegan orzo Bolognese), not because I'm vegetarian, but because they sound very tasty which they were indeed. To keep the pace and concentration I took caffeine gels from Science in Sport. They helped me before some tough climbs or when I was cycling in darkness.
12 x Firepot dehydrated expedition food (220 g each)
24 x E.L.F. energy cakes (125 g each)
12 x SiS caffeine gel (60 g each)
Electrolytes-, magnesium/ calcium-, fish oil pills (150 g)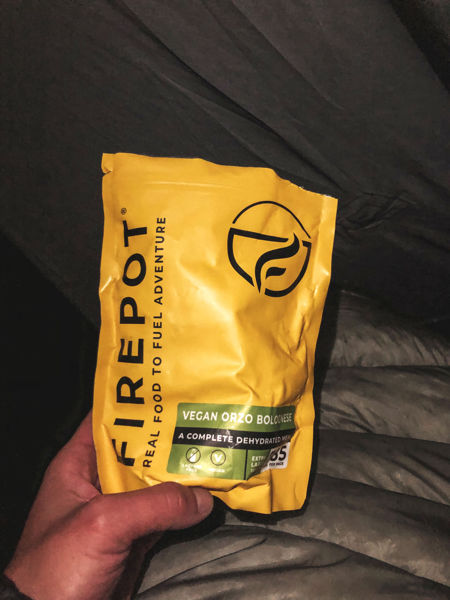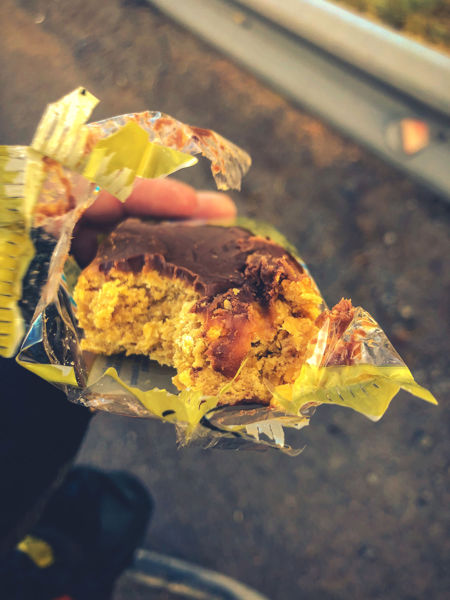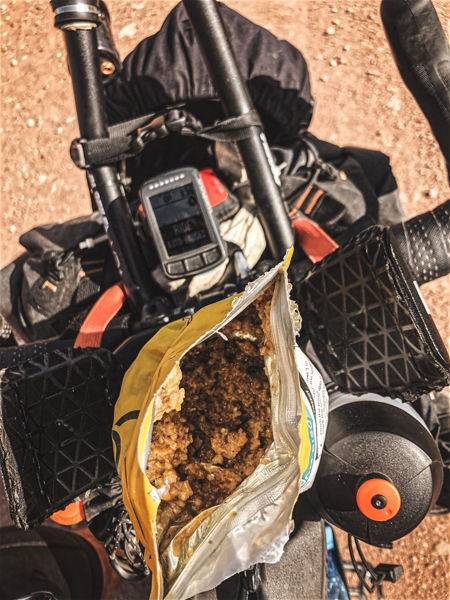 7. Technical Equipment (1,030 g)
The Sinewave Beacon (750 lumen) will serve as a charger for the battery pack from which all other electronic devices will be charged. In the event of a failure I also carried a two-port Anker power adapter which would easily charge the battery pack during a stay in a guesthouse. I had a double front lighting system adding up to 1,050 lumens. Even though this is more than enough in most situation I would go for a slightly lighter system on bad gravel (downhill) tracks. I used the Wahoo Element Bolt for navigation and connected it with the RPM speed sensor (for better accuracy of the data) and the TICKR heart rate for a better tracking of how much calories I have burned. Overall, I'm very satisfied with the Wahoo products. In terms of navigation the Element Bolt was not very accurate in some section sections. But I think this is just part of a Kyrgyz adventure.
Anker Battery pack (10,000 mAh) (200 g)
iPhone 8 (200 g)
Sinewave Cycles Beacon (120 g)
Anker power adapter (2 port USB) (60 g)
Charging cables (20 g)
Apple ear phones (50 g)
Black Diamond ReVolt (300 lumen) (220 g)
Wahoo Element Bolt for navigation (60 g)
Wahoo TICKR heart rate monitor (100 g)
Wahoo RPM speed sensor (10 g)
Lezyne back light (60 g)
8. Tools and Repair Kit (1,860 g)
I was lucky and didn't have any problems with my tires. The spare tubes that I had were very heavy. Therefore, I would only take two spare tubes (and buy additional tubes on the go, if needed). Most items on this list weren't needed, which was the perfect scenario. I didn't get any mechanicals on the bike or punctures. But it was good to have those items, you never know.
Multitool (160 g)
The Gentle Jaunt pocket knife (100 g)
Lezyne Micro Floor Drive HV pump (200 g)
Electrical tape (around air pump) (10 g)
Kryptonite Keeper 512 lock (120 g)
Milkit tubeless tire inflation bottle (0,6 l, 11 bar) (150 g)
Milkit bottle adapter (20 g)
3 x Schwalbe spare tubes (210 g each)
4 x SRAM chain links (2 g each)
2 x tire levers (25 g each)
Muc Off Dry chain lube (60 g)
MaXalami tire plugs (40 g)
Presta-Schrader-adapter, valve core remover, Tip Top patch kit/ tire boot (50g)
Derailleur hanger (10 g)
4 x SRAM brake pads (50 g each)
Zip ties (40 g)
Toothbrush (10g)
2 x Stans Tire Sealant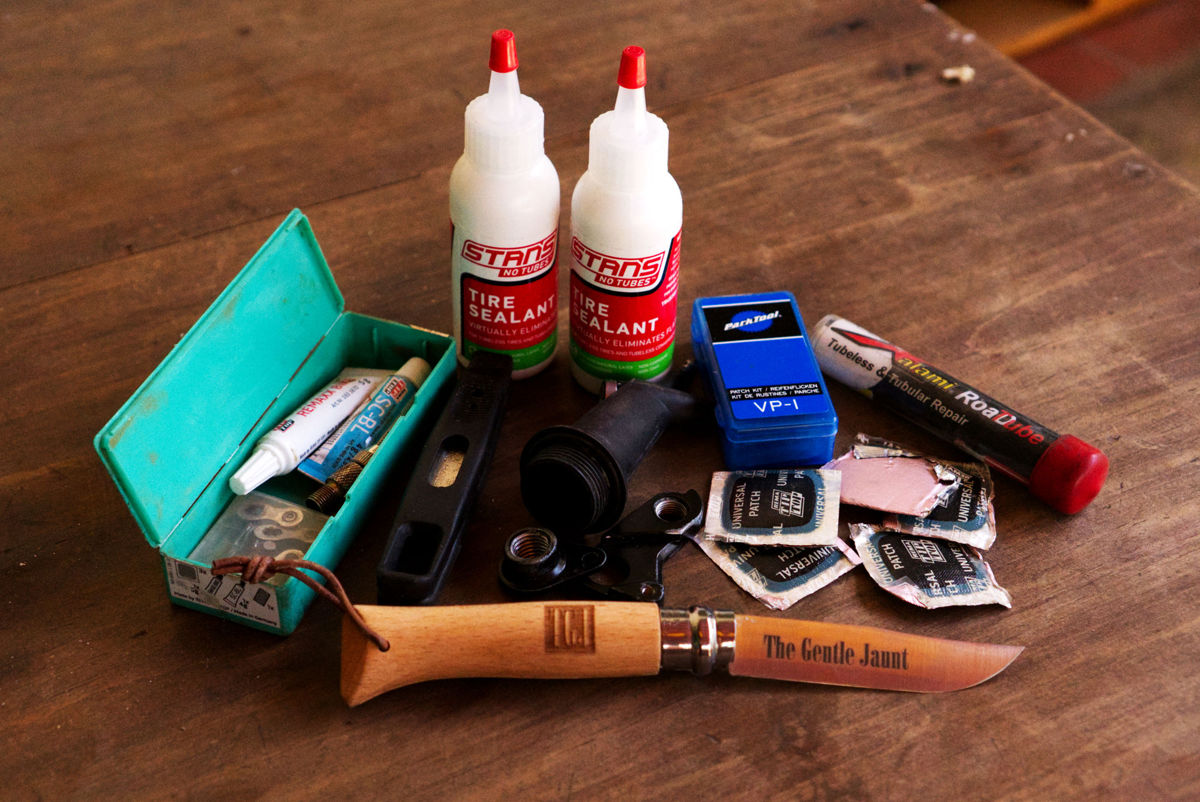 Paracetamol, patches, gauze bandage, healing clay, gastrointestinal pills, Aspirin Complex (100 g)
Toothbrush/ toothpaste (60 g)
DM sun blocker (200 g)
DM wet wibes (180 g)
Oakly EVZero Path Photochromic sun glasses (40g)
Science in Sport drinking bottle (200 g)
Sea to Summit travel wallet, including cards, ID, cash (100 g)
VARTA batteries (AAA, for headlamp) (100 g)
5 x Voile straps (30 g each)