I had already spent some money on equipment for the Silk Road Mountain Race (SRMR) and was going to start with a similar set up. However, the conditions of the Atlas Mountains are quite different to the remoteness of the Tian Shan Mountains, resulting in a lighter overall weight of the bike. Especially the lower altitude of the entire race, higher temperatures and more resupply options let me leave some stuff at home. On the other side, the terrain was barely rideable on a gravel bike. If I race again in 2021, I would ride on a 29er hardtail. But for now, I only had a Bombtrack Hook EXT-C, which is a perfect bike for almost all races, however, the rocky and sandy tracks of the Atlas Mountains are another level and race director Nelson Trees is known for creating very unique but demanding routes. Water resupply was another issue. Even the winter months in Morocco are very dry with no water resupply options.
The experience of the Silk Road Mountain Race made me feel like I was not a total rookie anymore. I tested all of my equipment as well as my bike in very tough conditions, knew how it feels like to be out there for a number of days and also learned to listen to my body. Now, I have a better feeling of the equipment, that I really need during a race (even if it's bulky and heavy) and other things, that I won't miss much, if I wouldn't carry it.
Let´s have a closer look of how I tackled the 1.145 km (and 20.000 m of climbing).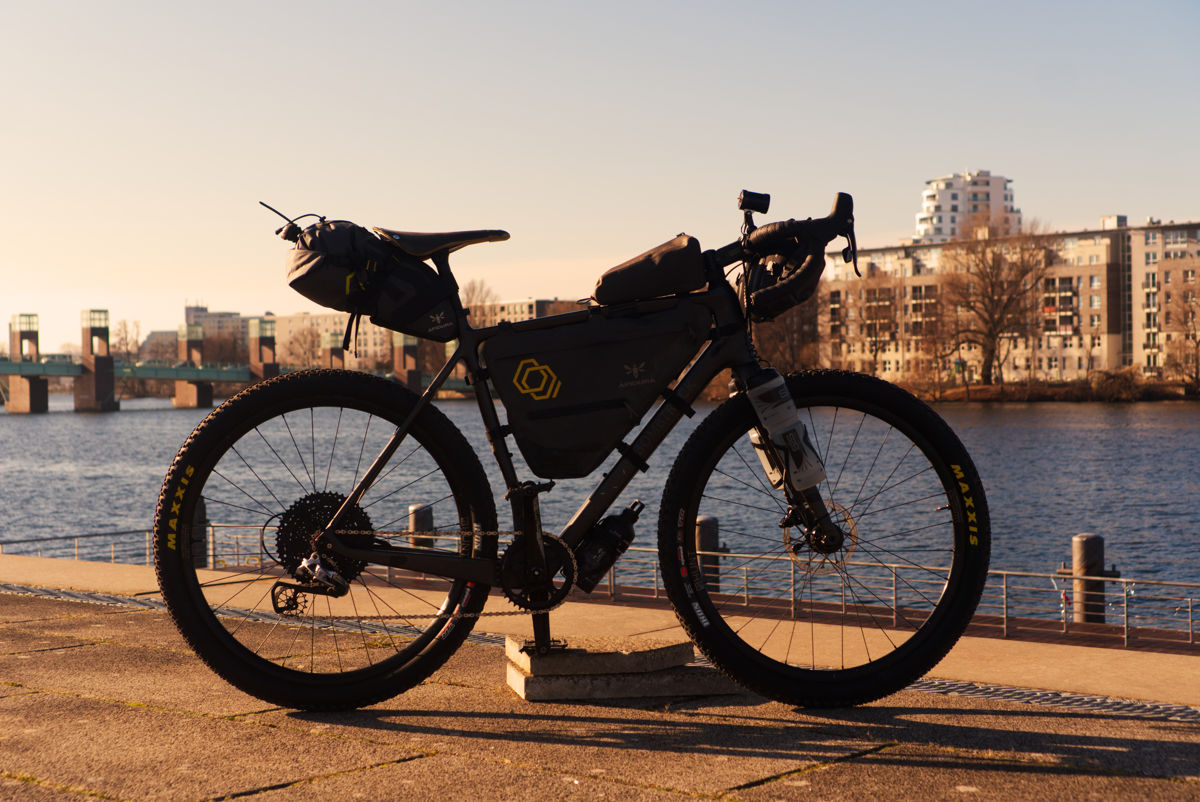 1. Bike Build (about 9 kg)
Like all other races I rode on the Bombtrack Hook EXT-C. Again, the Maxxis Ikon 2.2 tires did their job. I had a small side cut in the second night when temperatures dropped to 5 degree Celsius. I stopped, put the Maxalami in the puncture, turned the wheel to let the sealant seal and continued. No further issues, no complaints, I like this tire. I switched to a bigger cassette (11-50t) and kept my old chain ring (40). It was a good choice, but next time I would also go for a smaller chain ring, because I still had to push the bike a lot and didn´t need the highest gear at all. The SRAM Rival hydraulic disc brakes (160 mm front, 140 mm back) were just okay. On steeper and technical downhills I wished I had stronger brakes. The brooks saddle gives a lot of comfort. For the Atlas Mountain Race (AMR) the biggest change on my Bombtrack was to remove the Profile Design aero bars. I didn't use them often during the SRMR and decided to leave the moveable seat post and aero bars at home, which saved me about 1 kg and provided a better handling on the descents. After my Shimano Saints flat pedals broke a second time in autumn I bought low budget pedals from Brick Lane Bikes, which are not only more than 200 g lighter, but also feel very save and stable.
Wheels and tires
Hunt Adventure Sport 27.5 wheelset
Maxxis Ikon 2.2 (tubeless)
Hunt Adventure Sport front and rear hub
Hunt Adventure Sport 28" front and rear rim
SON 28 dynamo (440 g)
Drivetrain and brakes
40 T chainring
11 – 50t Sunrace cassette
SRAM Rival1 brakes
Additionals
Brooks saddle (C17) (420 g)
Redshift flexible stem (140 g)
BLB Flatliner Roar Pedal (335 g)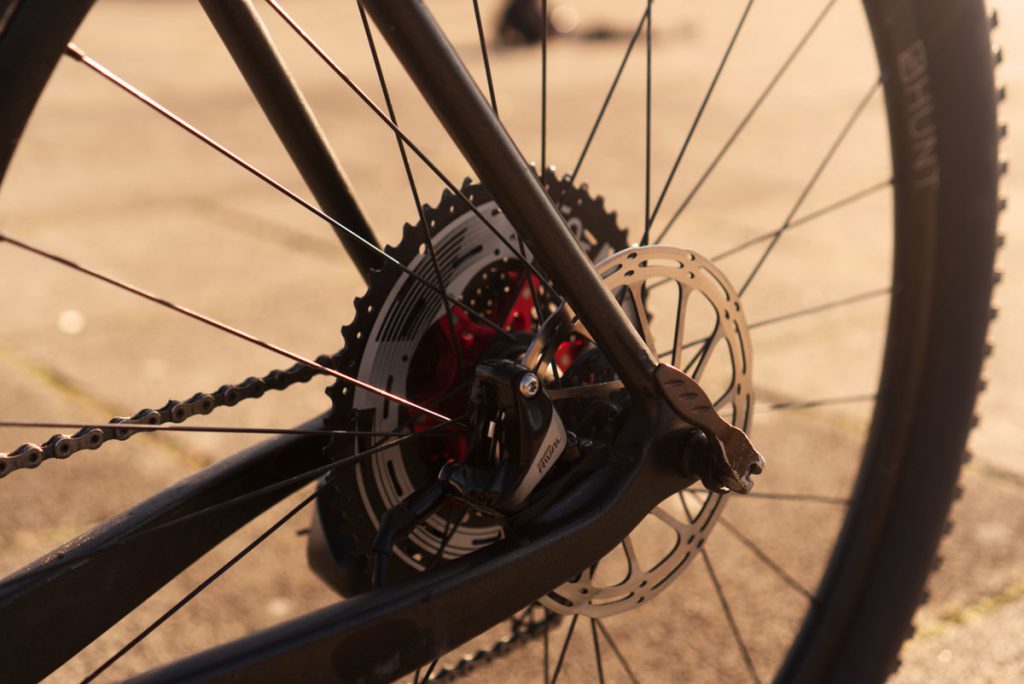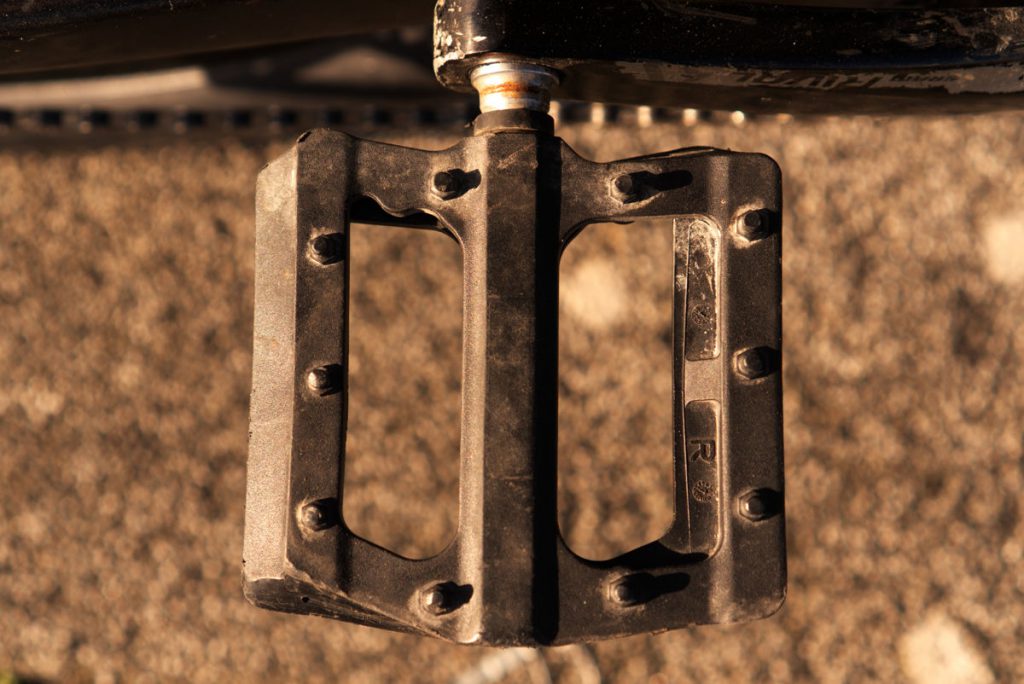 2. Bags and Mounts (1,060 g)
For the AMR, I tried to reduce as much weight as possible. I packed all possible options and decided for an almost complete Apidura set up. The zip of the framebag broke during SRMR, but was fixed by Apidura, when they collected all sold (and broken) bags and fixed them all (worldwide). Big kudos for this! The handlebar bag and the saddle bag were new and totally did their job. High quality straps didn't let the bags move during the ride. The zip of the frame bag, however, broke again. Sure, the conditions in the Moroccan Atlas Mountains are tough. Very dry and a lot of sand and dust. But that's the second time and I don't think I'll be using this bag again. Also, as the Apidura frame bags are not customized, there is a lot of space within the frame that can't be used. I put my spare tubes in the bottom triangle, so it's not totally unused.
Apidura handlebar bag (9 l) (300 g)
Apidura framebag (7.5 l) (340 g)
Apidura saddle bag (9 l) (300 g)
Salsa EXP top tube bag (1.2 l) (160 g)
Element Bolt K-Edge mount (20 g)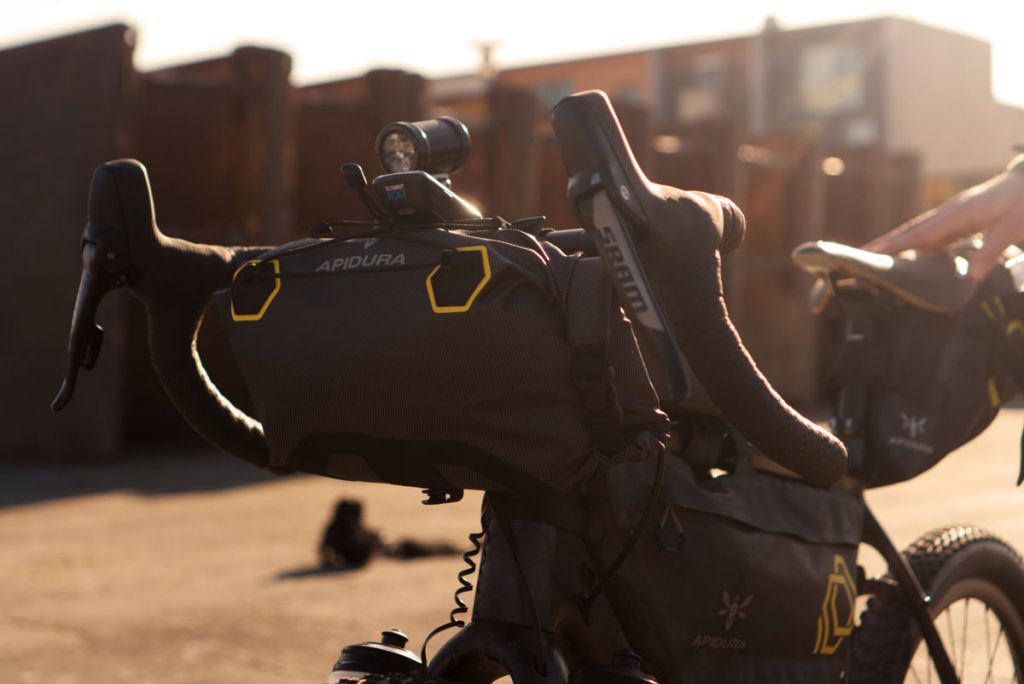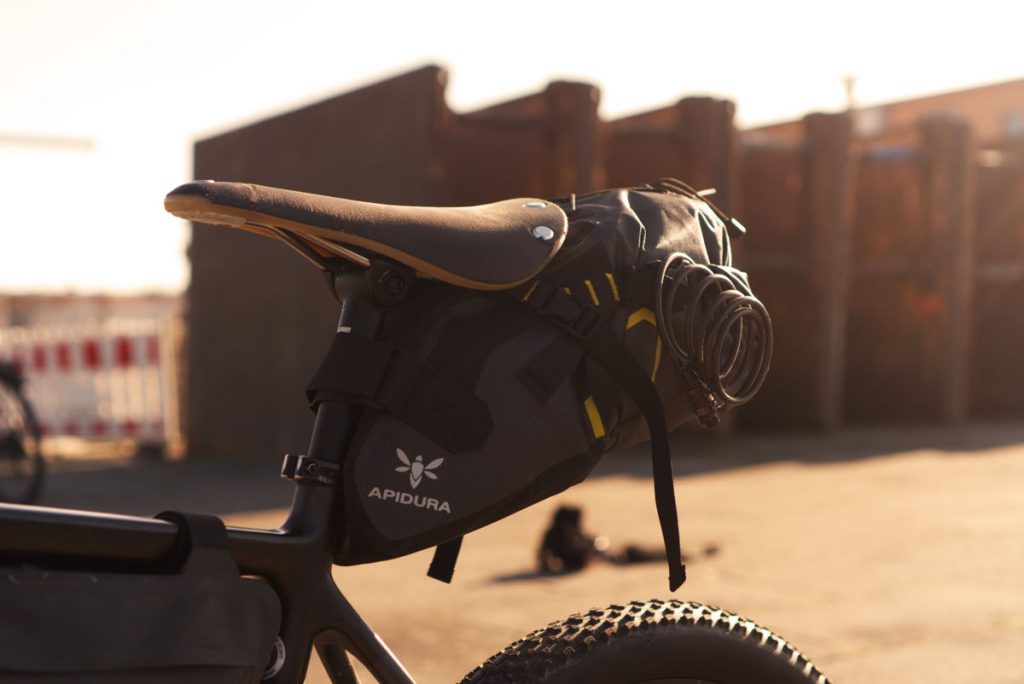 3. Clothing (2,300 g)
I took a lot of stuff on the plane and decided last minute which equipment I put on my bike based on weather forecasts. The weather couldn't have been any better – not a single rain drop, chilly (but not frosty nights and warm – hot temperatures during the day). There are some items, that I didn't use. But they don't weigh much and it's always good to have them in worse conditions. You never know. I replaced the Patagonia down jacket to the new micro fiber jacket (with a hoodie). The hood can be worn under the helmet and protects from the wind and cold.
Patagonia Micro Puff jacket (290 g)
Gore Wear wind/ rain jacket (Shakedry 1985) (150 g)
Rapha merino wool base layer (160 g)
Gore Wear windstopper base layer (140 g)
Craft bib shorts (170g)
Craft jersey (150 g)
Gore Wear leg warmers (110 g)
Gore Wear cap (40 g)
Gore Wear headband (15 g)
Pedaled thermo winter gloves (80 g)
Danish Endurance cycling socks (40 g)
2 x Danish Endurance merino socks (120 g)
Adidas Trail running shoes (840 g)
MET Manta helmet (220g)
4. Sleep System (2,290 g)
The weather in Morocco is mild – warm in February. I expected some cooler section in the very beginning on top of the first pass, but from then on altitude never got higher than 2.200 m. I wanted to be as lightweight as possible and thus, only used a bivvy bag instead of a tent. Regarding the sleeping bag, I changed the Seato Summit Spark IV to a Spark II, both very good and affordable sleeping bags with different temperature ranges. I used the same ultralight sleeping mattress that I used in Kyrgyzstan. Nights were warmer than expected and I ended up using the bivvy bag only to protect the sleeping mattress, however, only slept on it and not in it. I wouldn't change anything, because the stuff is very lightweight and packs small (and it's always good to be prepared for rainy nights too).
Alpkit Hunka XL bivvy
STS ultralight sleeping mattress (360 g)
STS Spark II sleeping bag (240 g)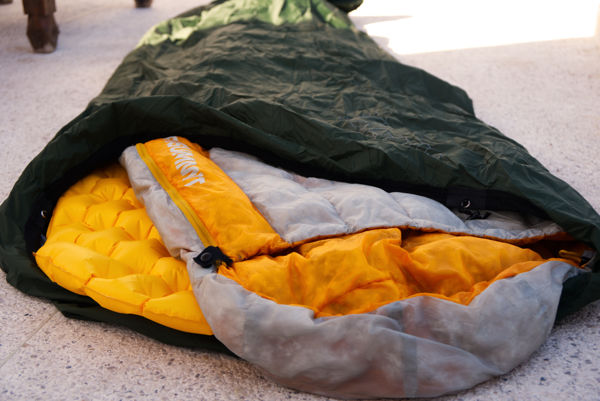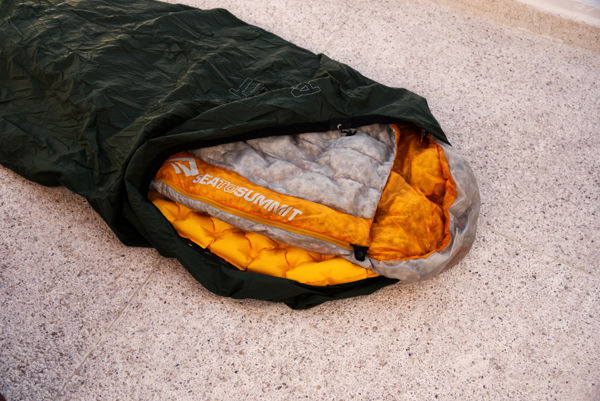 5. Nutrition (840 g)
That's the biggest difference to my SRMR set up. Even though the Atlas Mountains are very remote, stretches without resupply were not longer than 100 km. I had two packs of the Firepot food left and was very happy to had them, because a warm and tasty portion of food kept me motivated in tougher times. For hot warmer I didn't carry a stove and a gas can. I just asked at the restaurants for hot water, poured it into the ziplock bags and ate when needed. To keep the pace and concentration I took caffeine gels from Science in Sport. They helped me before some tough climbs or when I was cycling in darkness.
2 x Firepot dehydrated expedition food (220 g each)
6 x Science in Sport caffeine gel (60 g each)
Electrolytes-, magnesium/ calcium-, fish oil pills (40 g)
6. Technical Equipment (1,030 g)
The Sinewave Beacon served as a charger for the battery pack from which all other electronic devices were charged. In the event of a failure I also carried a two-port Anker power adapter which would easily charge the battery pack during a stay in a guesthouse. Finger's crossed I didn´t need to use it. The light of the Sinewave Beacon is very warm and has a very wide angle. I used the Zebralight head lamp as a second light source on descents. Having another spot light with 1,700 lumen, descending the tough trails at night was so much easier. Furthermore, the light used 18650 batteries, that only serve as a power battery pack in connection with a case. So, I had another charging source.
I used the Wahoo Element Bolt for navigation and connected it with the RPM speed sensor (for better accuracy of the data and using less battery on the Element Bolt) and the TICKR heart rate for a better tracking of how much calories I have burned. Overall, I'm more than satisfied with the Wahoo products. The Element Bolt did a great job – no failure at all. I missed a turn in the very end of the race when I rode in the middle of the night in a sand dune and had problems to find on the track. The difficulties of re-routing with a Wahoo are not new and I know that they solved this problem with the new roam. The heart rate monitor is a good tool to track your calories on normal trainings. However, on multiple-day races, your heart rate slowly adapts and gets lower day by day. On the last day I didn't even reach 130 bpm, even when I really pushed into the pedals. For a thorough analysis of calories burned I recommend a powermeter (I really need one as well).
Anker battery pack (10,000 mAh) (200 g)
Efest power battery pack 18650 (60 g)
4 x 1860 batteries (50 g each)
iPhone 8 (200 g)
Sinewave Cycles Beacon (120 g)
Anker power adapter (2 port USB) (60 g)
Charging cables (20 g)
Apple ear phones (50 g)
Zebralight head lamp (140 g)
Wahoo Element Bolt for navigation (60 g)
Wahoo TICKR heart rate monitor (100 g)
Wahoo RPM speed sensor (10 g)
Lupine rear light (60 g)
7. Tools and Repair Kit (1,590 g)
The terrain in the Atlas Mountains is tough – loads of (sharp) rocks and sand. No wonder I carried three spare tubes. I didn't need them. I had a side cut but fixed it with a Maxalami. I didn't need any other items of the list.
Topeak multitool (160 g)
The Gentle Jaunt pocket knife (100 g)
Lezyne Micro Floor Drive HV pump (200)
Stans tire sealant (150 g)
Electrical tape (around pump) (10 g)
Milkit tubeless tire inflation bottle (0,6 l, 11 bar) (150 g)
Milkit bottle adapter (20 g)
2 x Schwalbe spare tubes (210 g each)
1 x Schwalbe extralight spare tube (140 g)
2 x SRAM chain links (5 g)
2 x tire levers (25 g each)
Muc Off ceramic lube (60 g)
MaXalami tire plugs (25 g)
Presta-Schrader-Adapter, Valve Core Remover, Tip Top Patch Kit/ Tire Boot (50g)
Derailleur hanger (10 g)
2 x SRAM brake pads (50 g each)
Zip ties (30 g)
Toothbrush (10g)
Paracetamol, Gastrointestinal Pills, Aspirin Complex (30 g)
Toothbrush/ toothpaste (60 g)
DM sun blocker (30 g)
DM wet wibes (180 g)
Oakly EVZero Path Photochromic sun glasses (40g)
Drinking bottle (190 g)
Sea to Summit titanium spoon (20 g)