The 2 Volcano Sprint (2VS) is a self-supported ultra-endurance race through the beautiful southern areas of Italy. More precisely, it starts from Mount Vesuvius, that once destroyed the Roman cities of Pompeii, Herculaneum, Oplontis and Stabiae and ends at Mount Etna in Sicily. Riders will have to ride about 1.100 km and more than 23.000 metres of climbing.
Even though this is my first race on-road, I do have experience apart from rough gravel and MTB. For example, I rode the 24 hours Apidura challenge (see here) and many more ultra-distance events. The big difference is that I always rode in flat regions, where weight and climbing skills are not very important. This made planning the race challenging. My goal was to finish in less then 80 hours. I didn't plan to carry any sleeping equipment apart from an emergency bivvy, that I was only going to use in emergency situations. Temperatures were going to be chilly and dry.
Let's have a closer look to my kit list for the 2 Volcano Sprint:
1. Bike Build (about 8 kg)

After riding the Stuttgart-Stelvio challenge with the guys from Votec VRC I was offered to ride this bike for the 2VS. The bike is just great. With the unique seat clamp and the extended seatstays that reduces vibrations on rougher surfaces I can easily ride multiple day events without having any pain or fatigue.

For even more greater comfort and a solid rolling resistance I switched the tires to Continental 4 Season (32 mm).
The gearing was a SRAM Force AXS. If I ride this event again, I would definitely choose a lower gearing and a single chainring. Brakes were just fine.

While the Brooks saddle, that I used in all other races provides great comfort, it is very heavy. For this race I was looking for a lightweight option and found the SQlab 611 just perfect. Even though there was a lot of climbing and probably not the best road conditions, I attached Profile Design aero bars as well as the dual-position seatstay from Redshift.
Wheels and tires
Mavic Ksyrium Elite i19 UST (1.520 g)
Continental 4 Season (640 g)

Drivetrain and brakes
SRAM Force AXS shifters and front/rear derailleur
SRAM Force crankset (48/35t)
SRAM XG-1270 cassette (10-33t)
SRAM Force HRD/ XR brakeset
Additionals
Sqlab 611saddle (150 g)
ZIPP ServiceCourse SL handlebar (250 g)
Redshift dual-position seatpost (410 g)
Shimano XPD pedals (350 g)
2. Bags and Mounts (670 g)

There is not much needed for a 3 – 4 days ride in southern Italy, where re-supply shouldn't be a big challenge. Thus, I was riding with a top tube bag (for quick access), a half frame bag for food and electronics and a small saddle bag for clothing.
Apidura framebag (7.5 l) (340 g)
Salsa EXP top tube bag (1.2 l) (160 g)
Ortlieb Saddle Bag (2.5 l) (150 g)
Element Bolt K-Edge mount (20 g)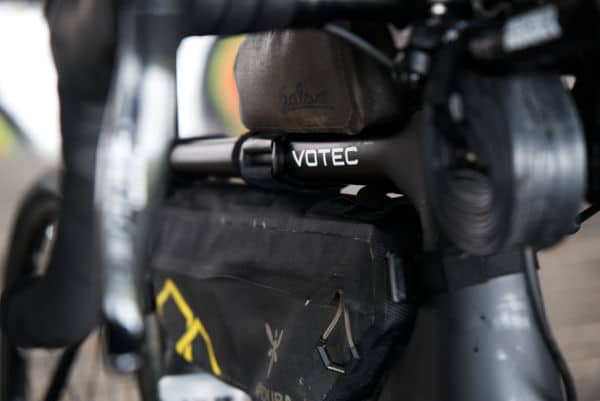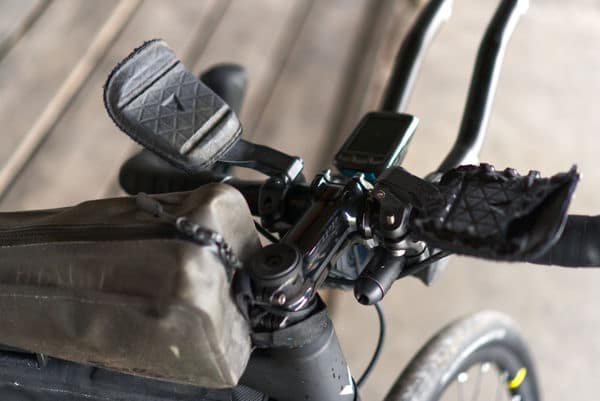 Gore Wear wind/ rain jacket (Shakedry 1985) (150 g)
Rapha merino wool base layer (170 g)
Craft Base layer (80 g)
Craft bib shorts (200g)
Craft jersey (150 g)
Gore Wear leg warmers (140 g)
Craft reflector jacket (130 g)
Craft arm warmers (70 g)
Rapha cycling socks (40 g)
Danish Endurance cycling socks (40 g)
Shimano SH-RT400 shoes (575 g)
Orbit360 cycling cap (30 g)
Specialized Helmet (300 g)
Mountain Equipment Emergency Bivvy
5. Nutrition (2.260 g)

As I said before, there are any re-supply options in Italy, which is why I carried too much food, retrospectively. Next time I would leave the sweets and nuts behind and buy it in supermarkets en-route.
8 x Maurten 320 drink mix (80 g each) (640 g)
8 x E.L.F. Energy Cakes (125 g each) (1.000 g)
Electrolytes- and fish oil pills (20 g)
Mixed nuts (400 g)
Snickers, Twix, sweets (200 g)
6. Technical Equipment (1,370 g)
Anker battery pack (20,000 mAh) (350 g)
Lupine Piko 4 helmet light (70 g)
Lupine battery pack (3 x) (410 g each)
iPhone 8 (200 g)
Charging cables (20 g)
Apple ear phones (50 g)
Wahoo Element Bolt for navigation (60 g)
Wahoo TICKR heart rate monitor (100 g)
Busch & Müller back light (60 g)
Lupine rear light (60 g)
SRAM Force AXS battery pack (50 g)
7. Tools and Repair Kit (1,100 g)
Topeak multitool (160 g)
Lezyne Micro Floor Drive HV pump (200)
Electrical tape (around pump) (10 g)
3 x Continental spare tubes (155 g each)
2 x SRAM brake pads (50 g each)
2 x SRAM chain links (5 g)
2 x tire levers (25 g each)
Rohloff chain lube (60 g)
Presta-Schrader-Adapter, Valve Core Remover (50g)
Derailleur hanger, zip ties (50 g)
Paracetamol (10 g)
Toothbrush/ toothpaste (60 g)
DM sun blocker (30 g)
Oakly EVZero Path Photochromic sun glasses (40g)
2 xDrinking bottles (190 g)
---
Thanks for reading and click on the button below the check out an interview about the race.