I'm living on the 4th floor in Berlin. With no elevator and pretty high floors. Pretty exhausting. I would go up day after day. Most of the time with the bike on my shoulder. In summer, I would be soaked with sweat crawling for a cold drink after finally climbing up these massive stairs. This is me living a typical Berlin city life. But there is another side to me. A wild soul that constantly tries to break out from the daily routine by challenging myself with new projects that both test me physically and mentally. So have you ever heard about "car park Everesting"? No? Me neither. Because no one has ever tried it!
2020 has been tough for this second part of me. After the Atlas Mountain Race in Morocco in February most races had been cancelled. During the summer I raced 13 routes of the Orbit360 Gravel Series and finished the race season with the 2 Volcano Sprint in October just before the second lockdown in Germany. Three races in one year. That's it. Don't get me wrong, I'm very grateful that I was able to take part in those races. But compared to my racing plans for 2020 (Race through Poland, Transcontinental Race and The Rhino Run) it was quite disappointing.
One last challenge to finish off 2020
There was a picture I saw that was going to unite both of my sides for once in a never before cycling Challenge that ended up to be a world record.
I was scrolling through Instagram just to stop a picture showing a cyclist riding up a car park. This was new to me. I had already climbed up mountains in Kyrgyzstan or rode through remote desert landscapes in Morocco. But I had never been ridden in a car park (like many of us I guess). Staring at this picture, I immediately knew, that I was going to attempt the Everesting challenge in a car park.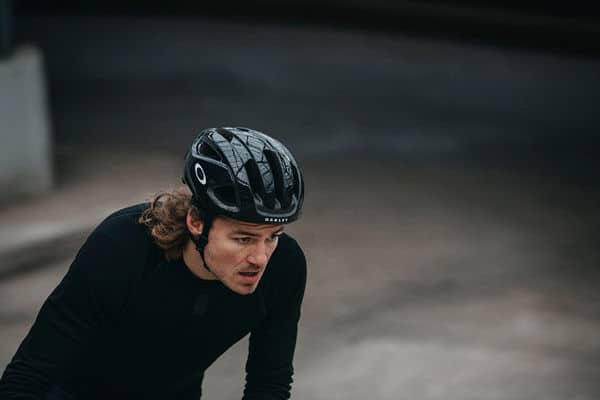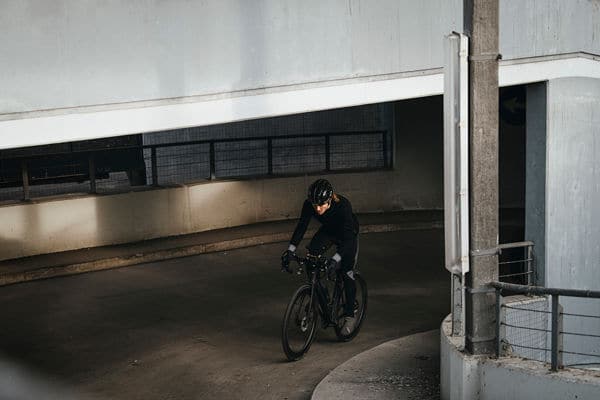 First things first – What is (car park) Everesting all about?
" Fiendishly simple, yet brutally hard. Everesting is the most difficult climbing challenge in the world. The concept is simple: pick any hill, anywhere in the world and ride repeats of it in a single activity until you climb 8,848m – the equivalent height of Mount Everest." www.everesting.cc
Vertical Gain – 8,848 m is taken as the total elevation gain. "Kinetic gain" that will occur when riding up a climb that includes small downhill sections should be avoided, however, it still counts towards the total goal.
Single Activity – The ride must be completed in one attempt. Sleeping is not allowed, breaks for eating/ drinking/ toilette issues are fine. Breaks can be as long as you want, however, the clock is not stopping and break times add up quickly.
Single climb – The attempts can be of any length on any hill, mountain, gravel road, whatever you like. There should be a considerable vertical gain to complete this challenge. Rides must only focus on one particular section, i.e. the same route must be ridden again and again. It is not allowed to ride different roads up a mountain. Also, rides cannot be loops, the descent must be via the same road that you were riding up. Rides must be full ascent each time. Each repeat must be ridden up and down. Furthermore, this is a cycling challenge! Walking is not allowed. The device should be turned on and recorded at all time.
Approved devices – The ride should be recorded by a dedicated GPS-device which has an altimeter. Special scrutiny will take place to ensure the 8,848 m target was reached. The number of repeats will have to be verified.
Accepted bikes: Obviously no E-bikes. No tandem bikes as well. Road, MTV, Gravel, Track, City or BMX are all fine. Human powered!
Riding is only half of the story
Every great challenge has to be planned carefully. So does an car park Everesting attempt. If not even more than the "usual" long-distance ride. For a normal Everesting attempt I would evaluate six main parameters when choosing the route: steepness, length, re-supply options, conditions of road surface, traffic and weather conditions.
Tons of thoughts have already been written about how to accurately plan the Everesting challenge. My friend Max Riese just finished an Everesting in winter and found some legible words regarding his preparation. Check out his blog post here.
In terms of a car park Everesting those parameters are generally out of control because it's a public transport area where riding bikes is simply not allowed. So the number of appropriate car parks for an Everesting attempt is significantly smaller than for a usual Everesting on a mountain, hill or whatever roads are out there. So let's take it as it is and let's find out if there is ANY car park where an Everesting attempt would be possible.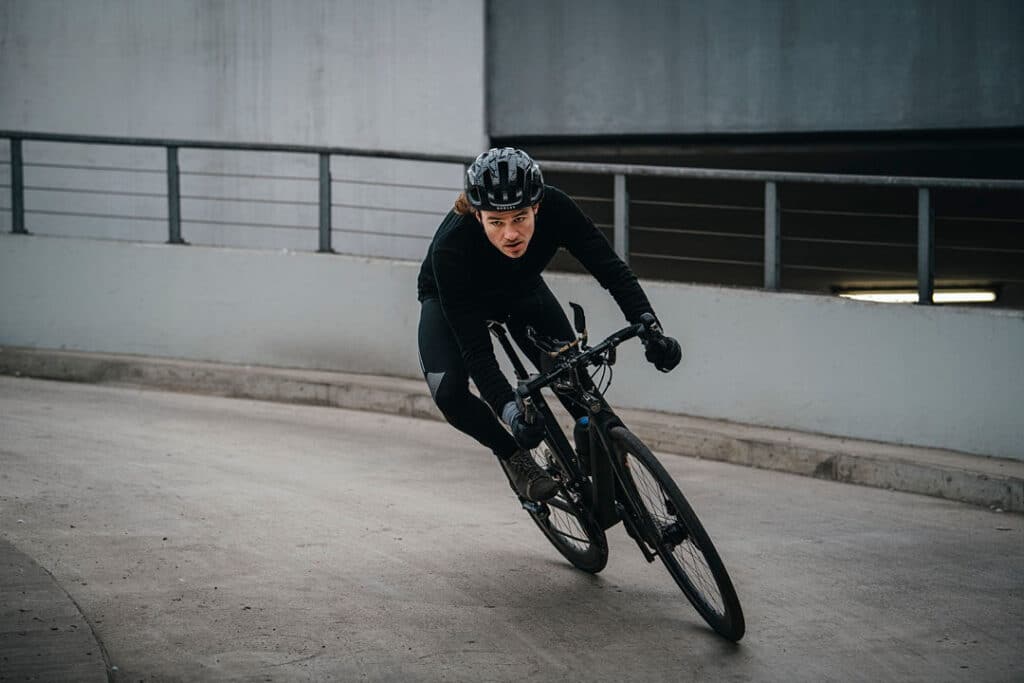 All beginnings are difficult
There had been two airports in Berlin for the last decades – Schönefeld and Tempelhof. In 2006, the construction of a new airport called BER was decided and it took not less than 15 years to finally make it happen.
The 31st of October 2020 was the day when the BER airport was supposed to officially open their gates. There are three car parks that hadn't been used until the opening and I knew that many cyclists had ridden over the perfectly smooth tarmac over there. We didn't have time to apply for an official permission and could only hope that not only graveljesus but also the climbing god was on our side. So we took the chance and scheduled the car park Everesting on the 30th October 2020, one day before the official opening.
Preparations for an ultra challenge mostly take parameters like distance, gradient, re-supply options and cultural aspects into account. For a car park Everesting, those parameters were quite unimportant, because we simply didn't have the choice between several options. There was that one car park, that was going to open on the 31th October 2020. So literally, we had this one chance, on this one date at this one specific car park. So take it or leave it.
Apart from the factors mentioned above, there is another crucial, but very important factor, that might impact our ride: dizziness. Just imagine you would non-stop running in circles for about 24 hours. You probably wouldn't care much about distance or grandient, but rather on "how the hell you will manage to stay focused and not lose your mind". So this became a big fear that we were not able to estimate before.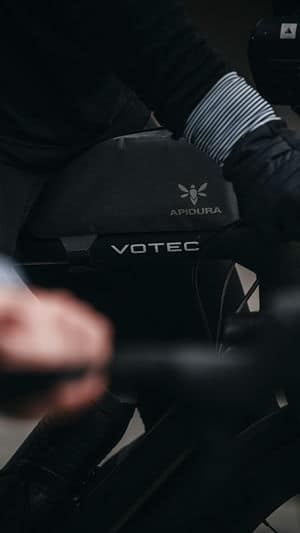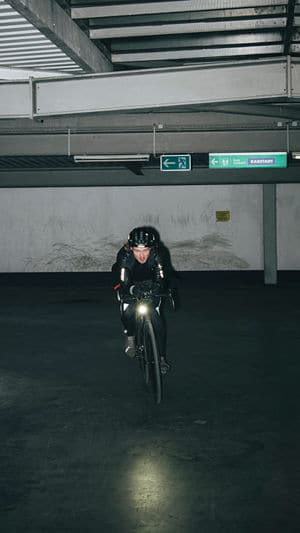 My first rounds in a car park ever
I partnered up with Magnus, aka Knusperschnecke from ROADBIKE PARTY. Magnus and I met at 2 am at Frankfurter Allee and took the train to the airport. Our Votec VRC bikes looked quite neat. People wouldn't think that we were just about to climb 8.848 metres. Both carried a backpack filled with real food, snacks, water and chocolate bars (of course) that we would drop on the upper deck to stop for a quick refuelling every now and then.
At 3 am, we set off and slowly rolled up our way up to the 7th floor. I was hungry for this challenge and really happy to finally start the attempt. Too many times I had imagined myself crawling up the same circles while trying to stay focused on the spiral descent that for sure won't be an easy part of the game.
First climb was done. An elevation gain of 22 metres! Well, this was rather sobering, knowing that we would have to repeat this segment for about 400 times to finally reach the height of Mount Everest. So we were highly motivated at the start that quickly dropped after the first rep.

The gradient of the climb was doable with a constant grade of 6 %. Sure, you might think that this is a CLIMBING challenge and 6 % is much less than the increase of the Stelvio pass. But on the other side, this also meant an overall distance of 350 km and therefore, many hours on the bike.
After two hours we reached 1.000 metres of climbing. This was a bit slower than we had planned. I checked my Wahoo. Riding time was okay. Speed too. Paused time as well. It must have been the lower speed on the downhill. Compared to a "normal" Everesting where you would gain a higher speed on the downhill and thus, save time we were not able to ride faster than 20 kmh. This was the absolute maximum speed before the centrifugal force would push us off the road.
We made ourselves friends with the two security guys. They watched us riding up and down throughout the night and even offered snacks and water. At 8 am, they changed shifts with the colleague, who wasn't amused about our Everesting attempt. He stopped us and impudently asked us to leave the area. We argued with him and even called a lawyer. In the meantime, I showed up with other security stuff and was about to call the police. Even though we still don't understand the ungenerous manner of this wannabe, we must admit that he was right. In the end cycling in a car park was not allowed and the police would have sent us home (plus a prosecution for disturbance).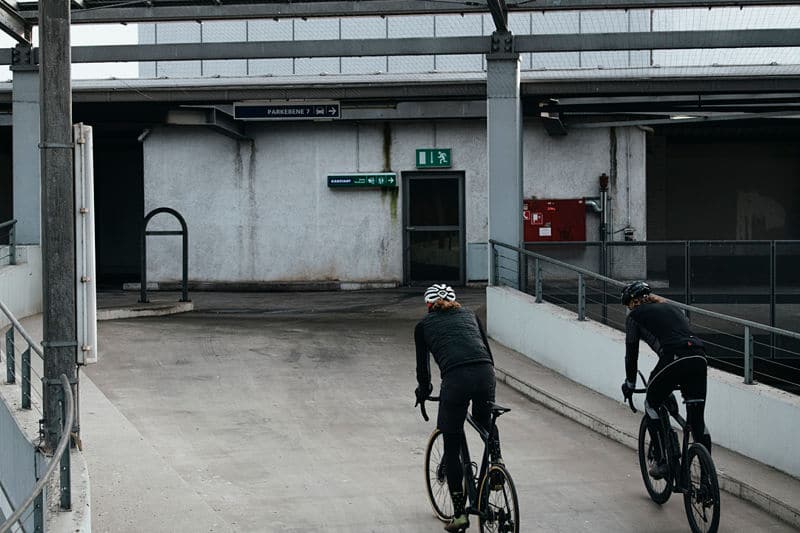 Same race, different place
Magnus and I didn't give up. A few days later we canvassed a number of car parks in Berlin. Et voila, there was a car park at Hermannplatz that seemed to be just perfect for our undertaking. At the same time I spoke to Alex and Stephan from Votec and as it happens, they had contact to the operators of the car park. Blessing in disguise. Problem solved.
It was the 28th of December 2020. Compared to our first attempt in October the weather became very uncomfortable by now. 4 hours of sunshine during the day didn't make it any easier. But let's start from the beginning.
This time we started a bit later because we would be riding in darkness for most of the time anyway. It was 4 am. We rode up to the 7th floor, found a little corner and left our food there. The area around the Hermannplatz is one of the high crime areas in Berlin with many "alternative strangers" hanging around. So we would be better off carrying most of our stuff on the bike and definitely don't leave any precious items up there.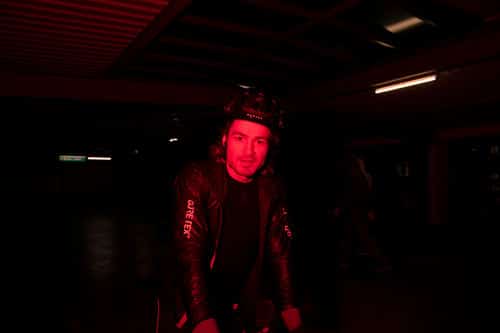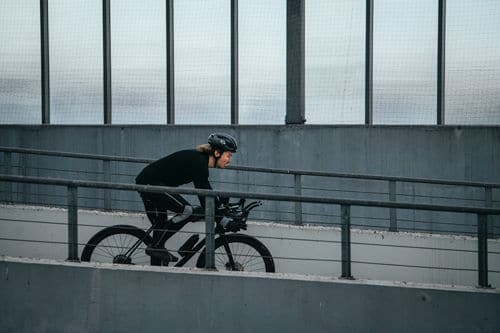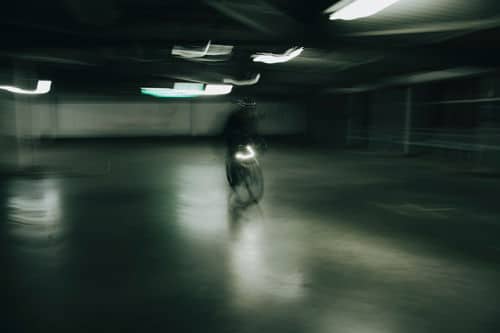 Last call. Departure for another car park Everesting attempt
It was dark. The lights of the car park had not been turned on yet. The first rounds hit us hard. The gradient was so much steeper compared to the BER car park, being 13% on the outside lane and 20% on the inside lane. This was insane. No way we would be able to ride next to each other this time. So we slowly crawled our way up. Again and again. For 22 metres! I looked down on my Wahoo, but the number showing the elevation gain didn't change much. One rep took about 2 minutes. So if I checked the Wahoo every round, I would have to look down pretty much 400 times. Only to see the number rising 22 metres in each round. Have fun, mate. What a great idea!
At least the light was turned on after riding 3 hours in complete darkness. Then, there was a guy who was just about to take our food bag on the 7h floor. But we got to the upper deck just at the right time and he quickly disappeared. From then on, we rode with the backpack on our backs until our friends came to take care of this.
At 8 am the lights were turned on and it became all bright suddenly. Someone must have been woken up by the rising sun and turned on the light. Whoever did this – THANK YOU! Now, all that pain and suffering was gone. Just blown away by a quick light switch. I thought about how privileged we are in just doing "stupid" things like riding up a car park for a couple of hundred times. There are people literally living in this car park who have other concerns. Like getting food, warm clothes or not freezing to death. So it must have looked kind of bizarre for them watching us riding up and down the car park. We shared our food with them, gave them a hot coffee and continued riding our bikes. Because that's what we came for and what we wanted to finish. Sooner rather than later. But I hadn't got this picture out of my mind and this situation concerned me very much throughout the entire attempt.

On the other side, these thoughts distracted me from the slow progress towards the 8,848 metres goal. Also, some friends showed up to take pictures, film a few sequences or just cheer on and ride some loops with us. A big shoot out goes to the team, that not only produced fantastic media coverage, but also provided us with food, water and simply with their attendance that really supported us. May I introduce:
Carlos Meyer (https://www.instagram.com/youngbandit.explores/): photographer and movie maker
Laura Imkamp (https://www.instagram.com/limkamp/): movie maker
Kenneth Albrecht (https://www.instagram.com/kenneth_tro/): drone pilot
Anika, Niklas, Simon, Stefanie, Patrick: Friends and supporter
It was 6 pm when Carlos and the crew packed their stuff together and went home for a well-deserved hot tea. The media team did an awesome job and I'm very delighted with the outcome. For us, well… we had just reached the base camp at 5.140 metres. There was still a long way to go.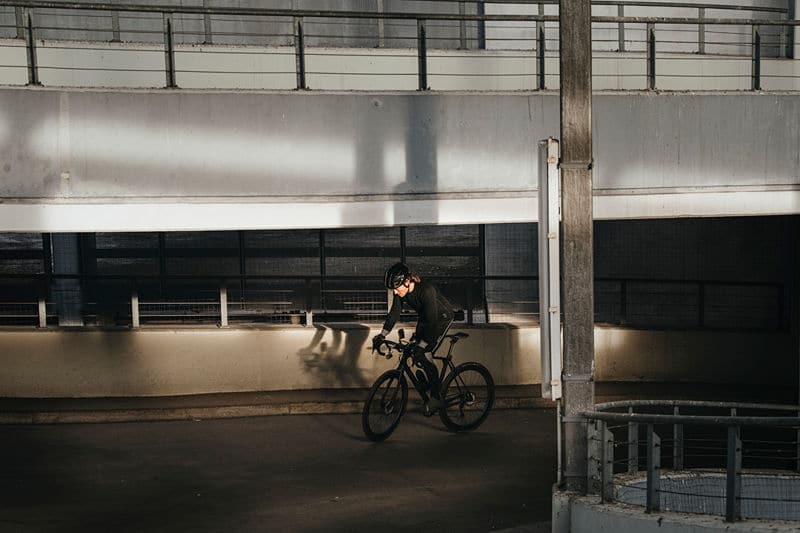 Now, our perseverance was really tested by a series of unfortunate events: First, the light of the car park turned out meaning that we had to ride the last 11 hours in utter darkness. Then, the record of the GPS-device crashed. I wanted to continue riding to keep the body warm, but the recovery of the record took about 10 minutes to reach 99% to get then crashed again. I waited for the recovery 3 times (= 30 minutes at about zero degree). In the end, I stopped the recording and started a new ride in hope that the Everesting team would accept two records. In the meantime, our food bag was stolen by one of the strangers who was strolling in the car park. ALL FOOD GONE.
We had another 10 hours to go and NO FOOD LEFT. Magnus and I looked at each other and started laughing. "At least someone is gonna have a really good dinner!" Well, even though this meant a lot of re-planning, we weren't angry after we had seen how the people lived during the day. So we rode to Hermannplatz and accurately calculated how much food we would need to finish the ride. There was a small kiosk and an Asian imbiss behind the corner. Time for a quick break. I ordered rice and veggies and continued the ride. The kiosk closed at 11 pm – last chance to buy the food for the rest of the night. I went inside and scanned the shelves. Chocolate, coke and more chocolate. I bought 2 litres of coke and 3 bars of chocolate. It wasn't what I was looking for, but it would bring me through the night.
Magnus and I didn't speak to each other much. We both tried to focus on our rhythm. Magnus did a quick break after every hour. I tried to stop as little as possible so as not to get cold. At about 3 am, I could barely keep my eyes open and started to nutate on the downhill. A power nap was urgently needed. I went into the stairwell, which was full of used syringes and garbage to sleep for 10 minutes. 
4.45 am. 8,848 metres. I finally reached the height of Mount Everest. But I wasn't done yet. Magnus had still 1,500 metres to climb and I didn't want to leave him alone in this car park. We started together and we would finish together. So there was no relief or happiness of being the first person who did an Everesting in a car park. I just kept going, with small eyes and fatigued legs. 
9,000 metres, 9,500 metres. Laura came by and brought a fresh and most important warm pizza and coffee. Yeah, this saved me. I stopped for a few minutes, ate as much as I could and rode the last 500 metres of climbing.
7.00 am. 10,175 metres of climbing within a distance of 193 kilometres. We made it. Magnus finished just a few minutes later and we enjoyed one last piece of pizza together. What a ride. But sorry pals, I won't do this never again.
Photo credits: Carlos Meyer (Instagram & Website)
Interview with Votec: https://www.votec.de/carpark-everesting/
Trailer car park Everesting: https://www.youtube.com/watch?v=Kd6i5FXNarg